---
Available Cats for Adoption
Tessa, Tigress, and Socrates are 4 years old. They have been vaccinated against Rabies, FVRCP (initial & booster), and FeLV (initial & booster). They are negative for FIV/FeLV. These cats are from a feral cat colony, but they were taken in by the rescue at an early enough age to be socialized. They have good temperaments and are responding well to socialization. All three were well-behaved for the veterinarian. He was able to examine and vaccinate them with no problems. They are well on their way to becoming friendly companion cats. Tessa and Tigress & are located in Sugar Land, TX. Call (281) 468-6226 if you would like to make an appointment to meet one of these sweeties.
Tessa Tigress Socrates - Adopted!!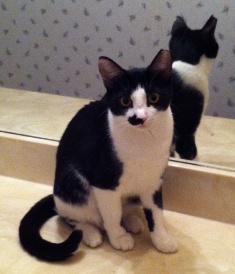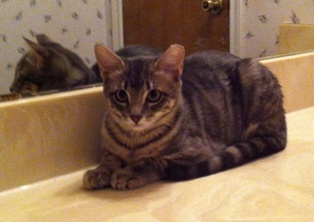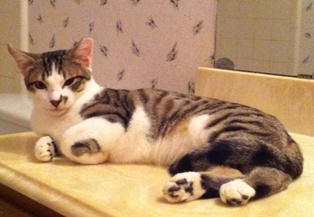 Tessa

is very sweet and friendly, and she enjoys being scratched. She was the first kitten to accept people and allow herself to be petted and picked up. Tessa is still a little shy when she meets new people, but she quickly warms up to them. She enjoys being scratched. Tessa is also curious, bold and playful. She has fun playing with her littermates and with us.

Tigress was very shy around people, but she is definitely warming up to them. Tigress has a good temperament; she will just need time to learn to trust her new family. She loves for us to scratch and pet her, but she will still run away if startled or scared. Tigress especially likes to be scratched (it's the secret to winning her affection!), and she will climb into our laps in order to be scratched. Tigress is very curious and playful, and her playfulness usually wins over her shyness.

Socrates is friendly, curious, and playful. He lets his littermates explore and check out new things. When he sees that everything is fine, then he will join in. Socrates gets along well with other cats and enjoys playing with them. Socrates got his name because of his tendency to think about things before he does them. Socrates can sometimes be shy around strangers, but once he learns to trust a person, he is very friendly and affectionate. ADOPTED!!
---
Available Cats for Adoption
Kellsie - Adopted!!!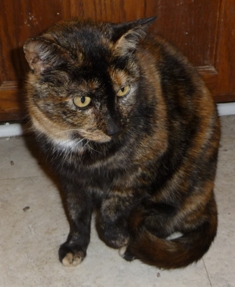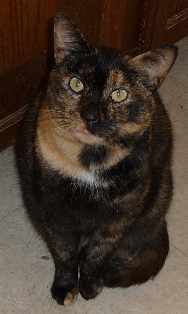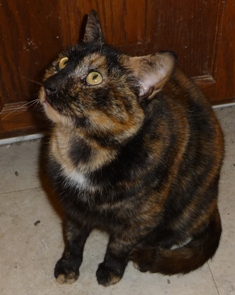 Kellsie appeared at the sale barn in Pilot Point when we were leasing it for the 64 horses from Lewisville. She and Sophie (see below) were very skinny and hungry, and the volunteers from Hope for Horses Equine Rescue were happy to add feeding the cats to the list of chores at the sale barn. Kellsie was very shy at first. She has conquered her fear, and now she is the first one to come running to rub on our legs. Kellsie wants very much to find her forever home. Will you be her special someone? Kellsie is located in Dallas, TX. Call Jeff at (214) 684-9168 if you would like to make an appointment to meet Kellsie.

Available Barn Cats for Adoption
Feral cats make great barn cats. There is a great need for barn homes as there are many feral cats that are caught each day. Please help us give them homes!
At this time we have no available barn cats.
Please visit www.barncats.org for available barn cats in the Dallas area.