Available Equine - aged 10 years & younger
---
If you are interested in adopting or fostering any of these equine, please send an email to info@hopeforhorses.com or call us at 940-368-2072 and reference to the equine's name or number. The adoption fee for equine on this page is as listed for each individual equine. As of January 1, 2020 we are required to collect sales tax on all adoption fees and miscellaneous items that we sell. Note - all equine will have a negative Coggins, and the following vaccinations: EWT, W.Nile, flu/rhino, and rabies. Unless otherwise stated, the males have been gelded.
Chili
Photos taken June 2020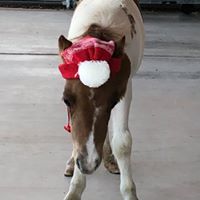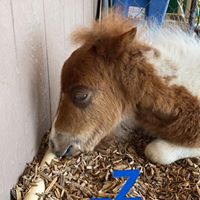 Chili was brought into a veterinary clinic with signs of colic. It wasn't a simple colic, and it was clear that surgery would be his only chance to survive. The owners released Chili to Hope for Horses Equine Rescue since they were unable to pay for the surgery and continue his care. In surgery, a fecolith was found to be completely obstructing the area in addition to sand and other materials in his large intestine. The surgeon was able to remove the fecolith and other foreign materials. The whole ordeal was extra stressful for poor Chili since he was brought to the clinic without his mother, thus he was abruptly weaned. In addition to the colic, he had hoof issues which needed to be corrected.
Chili is now recovered from his colic and hoof issues. Chili needs to go to a special home that has lots of grass for him to eat. Chili cannot be kept on a sandy or dirt area (dry lot), as he has a tendency to eat the sand and dirt. We believe it was this tendency that created his original colic situation. Please do not inquire about Chili unless you have a grassy area where Chili can be kept. NOTE - Chili is located in Arizona.


Wesley
Photos taken August 24, 2022
Wesley is young and energetic. He is halter broke and knows how to longe. Wesley has just been started undersaddle, so he needs an experienced trainer to work with him. More information will be added as he is worked with more.
NOTE - Wesley is located in Arizona.
Name: Wesley

Gender: Gelding

Age: Wesley is a 2017 foal

Breed: Warmblood

Height:

Color/Marking: Chestnut with a star & small, connected strip and snip

Physical Problems: none known

Experience level needed: Experienced

Type of riding: Dressage & eventing prospect

Adoption Fee: $500
Kemo - Adopted!!
Photos taken January 31, 2019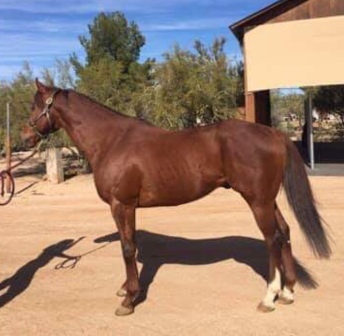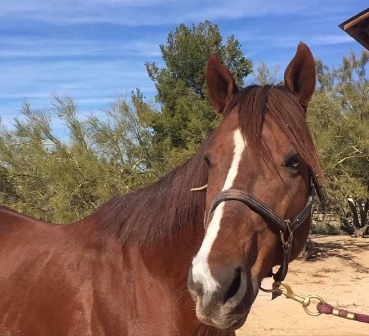 Kemo is a 16.2H six year old Thoroughbred gelding who fought his way back to health from severe pneumonia. His racing career is over, but he still has plenty of good years left to live. Kemo has lots of potential and can be trained for dressage, hunter/jumper, eventing, or even just pleasure riding. NOTE - Kemo is located in Arizona.
For any information concerning these equines, please send an email to info@hopeforhorses.com.
To see our other horses available for adoption, click on the Horse Adoption tab to the left.